Adelaide Hills
In the Adelaide Hills, you'll find South Australia's oldest wine region. And more than 50 wineries continuing a tradition that started way back in 1845, when a hock from Echunga became Australia's first wine export (it was sent to Queen Victoria but no-one's sure if she was brave enough to taste it).
Today, some of Australia's most elegant cool climate sparkling and still wines are produced in the region, from grape varieties including: Chardonnay and Pinot Noir for sparkling and table wines in the coolest areas; Riesling, Semillon, Sauvignon Blanc and Merlot in the slightly warmer areas; and Cabernet Sauvignon, Cabernet Franc and Shiraz in the lower altitudes.
Twenty-five cellar doors offer wine tastings and sales, for such premier labels as Nepenthe, Shaw & Smith and Petaluma. And for pure indulgence, don't miss the award-winning Bridgewater Mill restaurant and cellar door.
Great little roadside stalls and farmers markets are dotted around the region, and include the new Battunga Country Growers Market at Macclesfield. There you'll find local fruit, organic vegetables, herbs, wood-fired organic bread, nuts and more every Sunday from 10am to 3pm.
For more information on wine and food in the Adelaide Hills, head to the links section and order your free copy of the Adelaide Hills Secrets Visitor Guide.
Sorry:
- Please recheck your ID(s).
- If you are showing a private album, check that the "Retrieve Photos From" option is set to "User's Private Album" and that the Authorization Key is correct.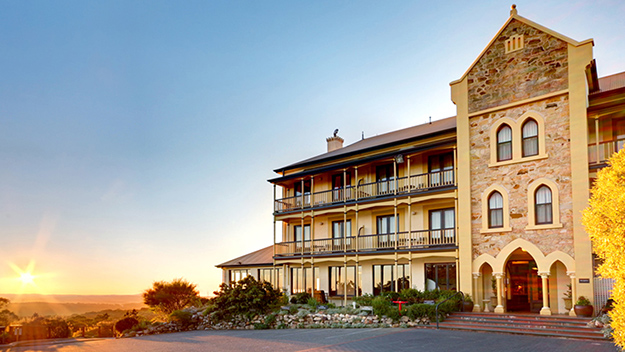 Tour Highlights
On this page you can find our recommended tours however you are more than welcome to alter your tour at any time. We can discuss with you and organise unforgettable personalised experience. In any case for any tour in Adelaide Hills region we recommend visit to …..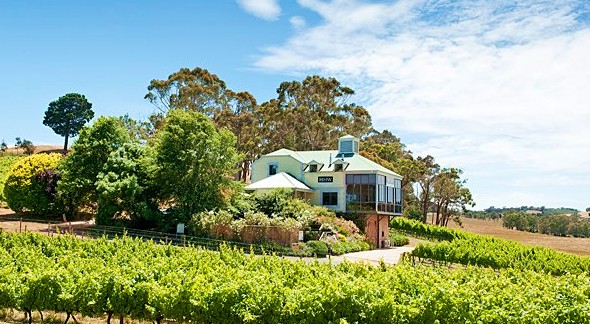 Hahndorf Hill Winery is a boutique producer specialising in alternative wines, including Gruner Veltliner, Blaufrankisch and Zweigelt, which we are pioneering in Australia.
We also produce the classic varieties for which the Adelaide Hills wine region is renowned – Sauvignon Blanc, Pinot Grigio, cool-climate Shiraz and fresh rosé.
Our beautiful vineyard and cellar door are located outside historic Hahndorf village – the oldest surviving German settlement in Australia and today a popular tourist destination.
List of Region Wineries
Arranmore Vineyard
Ashton Hills Vineyard
Barrister's Block & Poetic Justice Premium Wines
Blefari Wines at Carey Gully Vineyards
Chain of Ponds Winery
Coobara Wines at the Birdwood Wine & Cheese Centre
Deviation Road Cellars
Glen Ewin Estate – Bistro & Cellar Door
Golding Wines
Griffin Wines
Hahndorf Hill Winery
Honey Moon Vineyard
Howard Vineyard
Johnston Oakbank
K1 by Geoff Hardy
Kersbrook Hill Wines
La Linea
Leabrook Estate
Lobethal Road
Longview Vineyard
Magpie Springs Cellar Door
Malcolm Creek Vineyard
Manyara Vineyard
Maximilian's Estate & Madhills Wines
Mayhem & Co
Mt Lofty Ranges Vineyard
Murdoch Hill Wines
Ngeringa Vineyards
Norton Summit Vineyards
Paracombe Premium Wines
Partalunga Vineyard
Petaluma's Bridgewater Mill
Protero Wines
Robert Johnson Vineyards
RockBare Cellar Door
Scott & La Prova Wines
Setanta Wines
Shaw + Smith Tasting Room
Sinclair's Gully Wines
Somerled Wines
Talunga – Scaffidi Premium Wines
Ten Miles East
The Lane Vineyard
The Mojo Barn
Tilbrook Estate
Tomich Wines Tasting Room
Tupelo Vintners
Whisson Lake Pinot Noir Vineyard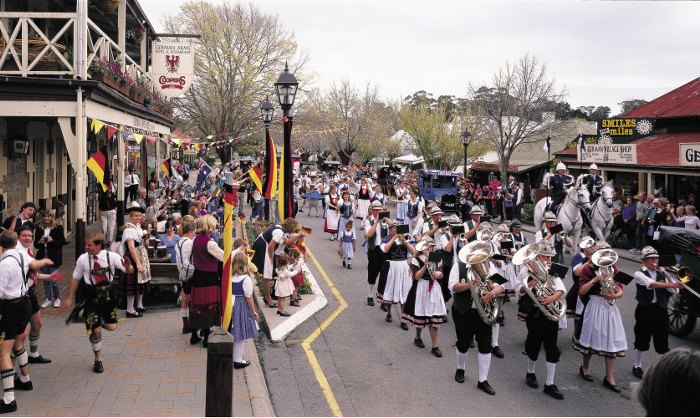 Hanhdorf (German Village)
Hahndorf is classified as Australia's oldest surviving German settlement and each year thousands of people, young and old, enjoy its charm and the hospitality. Hahndorf is the jewel of the Adelaide Hills and one of South Australia's most popular towns. A mere 20 minute drive from the Adelaide CBD, Hahndorf can be easily accessed via the Southern Eastern Freeway. The town is immensely popular with visitors from all over the world as well as locals and many premium businesses have set up their shops in this iconic town
List of Region Attractions
Hahndorf
The Hahndorf Farm Barn
Cleland National Park
Big Rocking Horse and Toy Factory
Mount Lofty Summit
National Motor Museum
The Cedars
Beerenberg Strawberry Farm
Melbas Chocolate Factory
Adelaide Hills Farmers Market
"From the Meet and Greet where David asked us about the wines we normally drink, to the scenic tour and the divine wines we tried, it was the best day of our entire holiday. David is a wonderful and fun character that went out of his way to make sure we were enjoying both the wines but also the entire experience. Have recommended him to friends and will tour with him again when we come back to Adelaide. Thanks Mate!"
Jeff & Liz Davenport
A fantastic private wine tour run by David. I can't rave enough about David and he's 'magic van' what we called his very well equipped van and the tour. David listened to what we wanted to do and drink and tailored the day around us. Lunch was included in the bill. We couldn't believe how quickly the day went and were really happy with the vineyards we visited. David was knowledgeable and fun!"
Tracey & Glenn Trelaoar